If you find a Build Sheet it's important to check to see if it's the correct one for the car.  Many times I've found Build Sheets in cars that belonged to different cars.  Like I said earlier, I think placing Build Sheets in the vehicles was a way to discard something that they felt was no longer needed; therefore, didn't matter what car they went in as long as the paper wasn't cluttering the factory.  It's decades later and a Build Sheet is one of the most important documents an E-Body can have.  To check if it's the correct Build Sheet for the car look along the top of the sheet and find the box that says Vehicle Identification Number.  See photo 17.
Click HERE to use the Build Sheet Decoder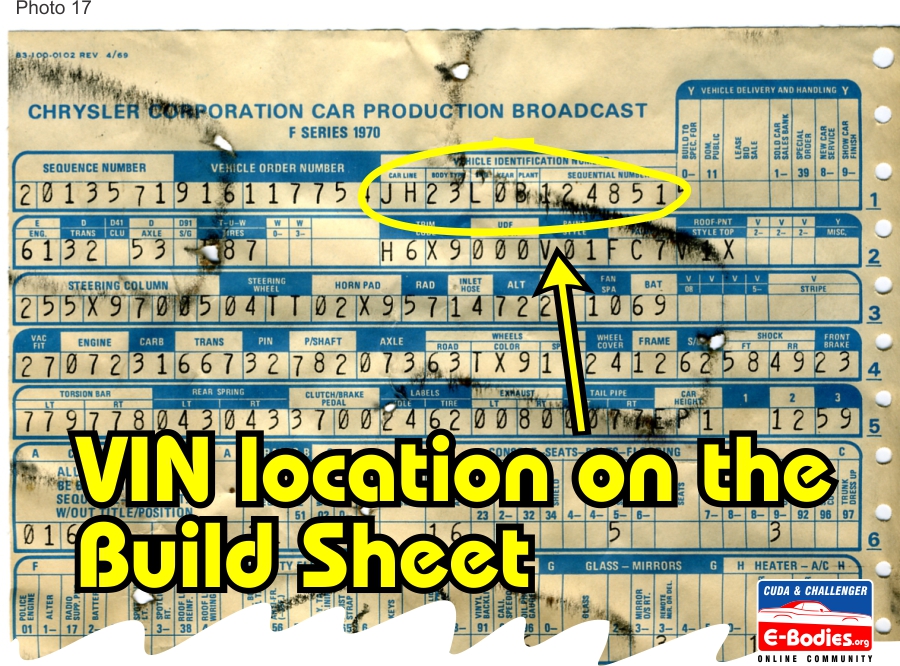 For the Build Sheet to be a correct match for the car it must match the VIN on the dash.  If it does not match, there's a good chance that it belongs to another car owner who would appreciate its missing Build Sheet.  Contact the main Mopar registries to determine whether they know where the car is that the mismatched Build Sheet belongs to.  Barry Washington of Hamtramck-Historical.com or Galen Govier are good places to start.  And you can also ask to see if they know where the Build Sheet is to the car you're looking at (if it's missing).  Also post it on the E-Bodies.org forum so it comes up in Google searches.  I've found a numbers matching 440 engine through a Google search that brought up an old Forum post.  That was exciting!
#9 DOOR MYLAR: The last and final VIN to check is the Door Mylar VIN data decal.  This decal is located on the drivers door jam.  See photo 18.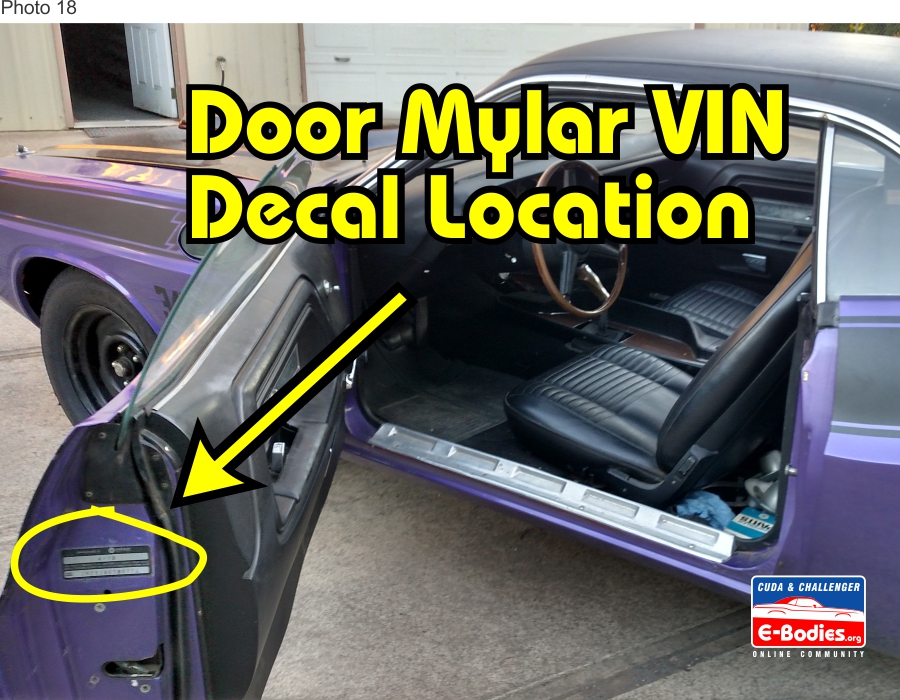 The Door Mylar data VIN decal is printed on a black and silver sticker and is tamperproof.  So if you try to remove it the sticker comes apart and the VIN is no longer readable.  But not to worry if your project does not have the original Door Mylar data VIN decal because a company called ECS Automotive Concepts reproduces fantastic replicas.  For a reasonable price you can order a brand new (Chrysler approved and licensed) Door Mylar VIN decal.  If you are looking at an original un-restored E-Body then the Door Mylar data VIN decal should be in place and match the Dash VIN.  Check to see if it's been painted over or taped off and painted around.  All factory Door Mylar data VIN decals were placed on the vehicle after paint.  From what we've seen the Hamtramck built E-Bodies had the Door Mylar data VIN decal installed horizontally and the LA built E-Bodies had them placed them vertically.  Lots of repainted cars tape around this decal instead of replacing it.  Photo 19 is of an original Door Mylar data VIN decal.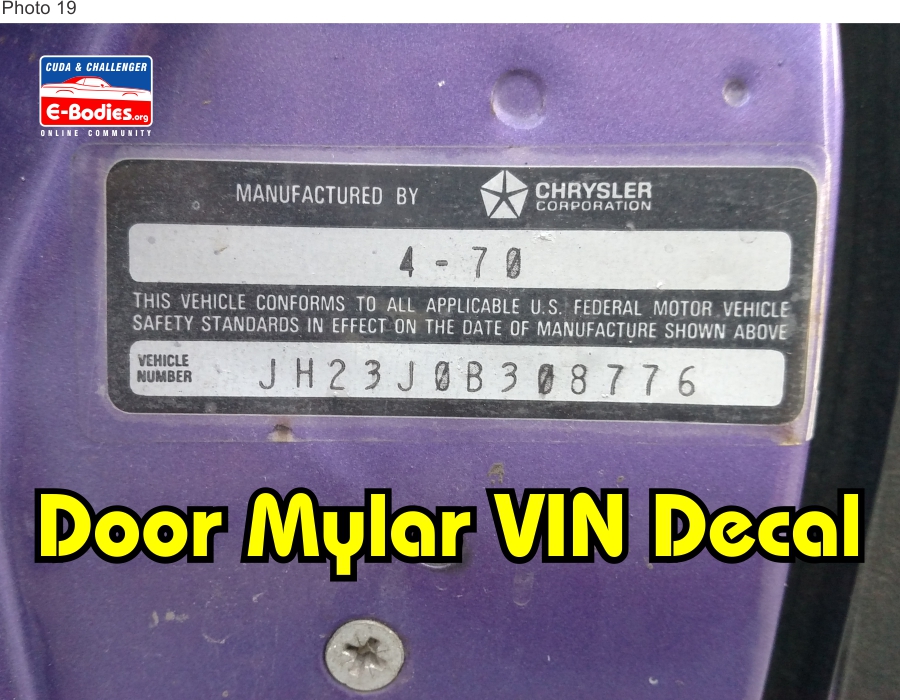 Bonus time!  There's a little known 11th VIN that very few people know about.  That's because it's rare and not many cars are found with it.  It's the Warranty Card that was placed in the glove box.  See Photo 20.   The VIN is either hand written or typed on the Card.  The Warranty Cards are reproduced by ECS Automotive Concepts.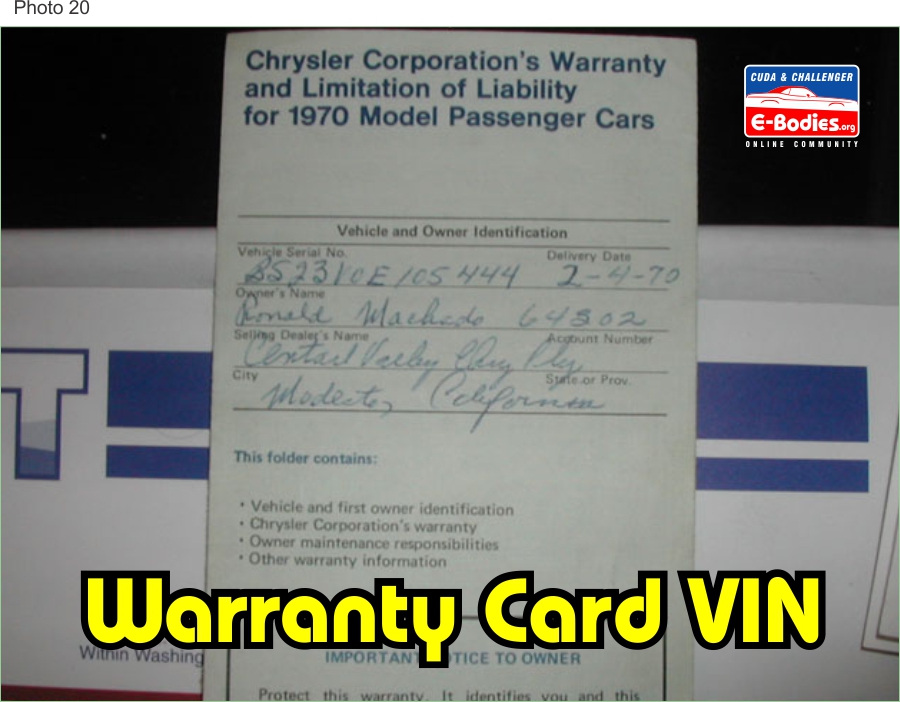 You might be wondering why we didn't talk about the Rear End or Trunk Lip VINs.  That's because only B-Bodies got a VIN stamped on the left side of the Trunk Lip rail (about half way up) and there was never any VINs stamped on Rear Ends.  Dana 60's they stamped a date, but not a VIN.
Thanks to 4cruzin, 303 Mopar, headejm and anlauto from the E-Bodies.org site for their help with this article.  If you still have any questions about VIN numbers on an E-Body or if there is anything else I can help with, feel free to contact me on the E-Bodies.org forum.  I'm member Cuda Cody.  Go E-Bodies!
Disclaimer:
Everything I have written (above) I believe to be true and is published with the intent to entertain.  If it helps first time buyers gain knowledge about these wonderful muscle cars, that's a bonus.  Do your own research and make your own decisions on any car you buy.  There are exceptions and factory errors that need to be evaluated on a base by base case.  This is not meant to be a stand alone final say on documenting or verifying the authenticity of any E-Body.  When purchasing an E-Body, especially one of great value, it's best to hire a professional to inspect and validate the cars condition.  It's also a good idea to check with some of the Mopar experts that have databases set up to keep track of E-Bodies as they can help identify cars with questionable histories.  People like Barry Washington of Hamtramck-Historical.com or Galen Govier keep and maintain some of the largest databases in this hobby.  VIN fraud is very real and this information is meant to help any new buyer from falling victim to it.  If you need a quick opinion or answer to a question, the major online Forums are a good place to look for help too.  Forums often have members with vast amounts of knowledge & experience and they freely share it with new members.  The E-Bodies.org forum is a good place to start and there's also Moparts.com.